Dial Park Primary School Dial into the Heartbeat for Everest Cause
AWESOME – is the only word to describe the feeling presenting the Heartbeat for Everest cause to the children of Dial Park Primary School, Stockport today!
From the moment I arrived there was a fantastic and positive reception with all children eager to discover more about Heartbeat for Everest, learn about Mt Everest, the Sherpa people and the challenge of a lifetime – Everest Marathon 2016.
Once again discussing how the concept of Heartbeat for Everest was born and how we are hoping to make a change by raising funds for the British Heart Foundation and Himalayan Trust UK was a moving experience, especially after discussing the raw emotions of witnessing one Everest's worst tragedies unfold came flooding back.
The talk focused on my journey from boyhood dreams at St Malachys Primary School and discovering new heroes, to Lakeland Fells, a 60th birthday surprise to remember and the trip of a lifetime to Everest Base Camp – 45 minutes cannot really do it justice but I managed to showcase a number of the highs along the way including;
Educating the children about the world's highest mountain (5.5. miles high or x96 football pitches in height!)
The magnificent Sherpa people who constantly make other people's dreams become a reality
The work of the Sherpa people including a showcase of how heavy a load they have to carry max.25kg (not very heavy apparently!! Kids eh!)
4 videos giving a flavour of the trip including witnessing the rescue mission unfold in front of our very eyes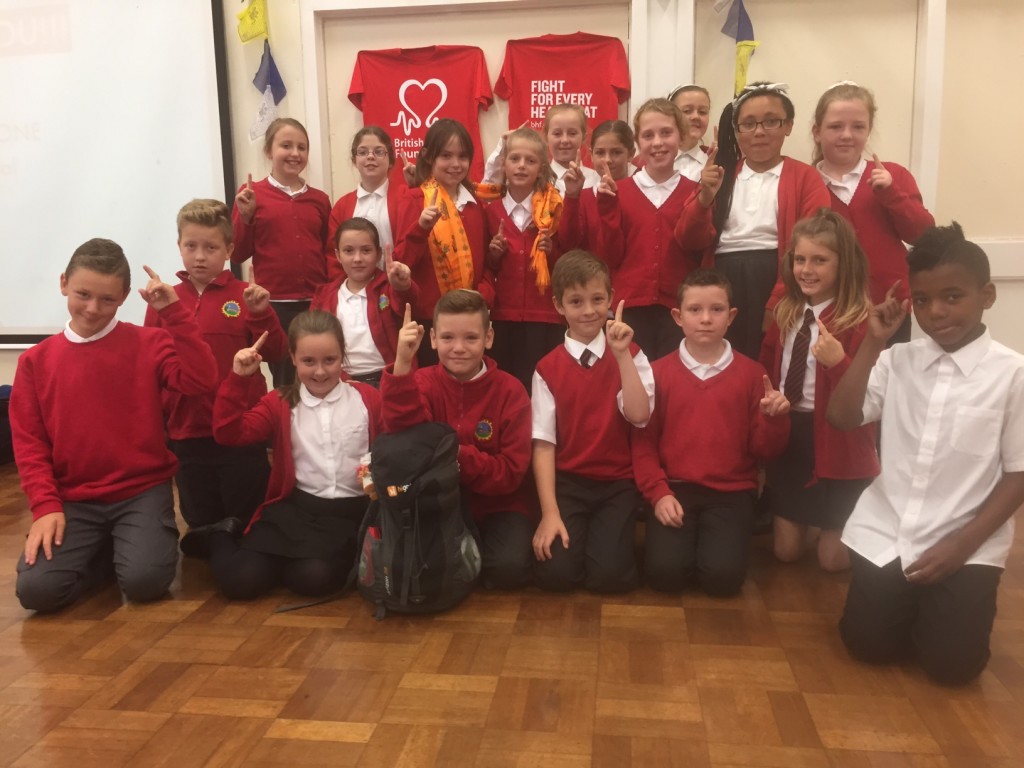 I think the children really enjoyed the presentation, as believe it or not (and to the surprise of some of the teachers) there wasn't a sound as they watched!
After the special assembly a lot of the children were anxious to try and lift the weight of the rucksack which Sherpas carry and make light work of!
Whilst I was talking the school also tweeted throughout with some fantastic feedback received;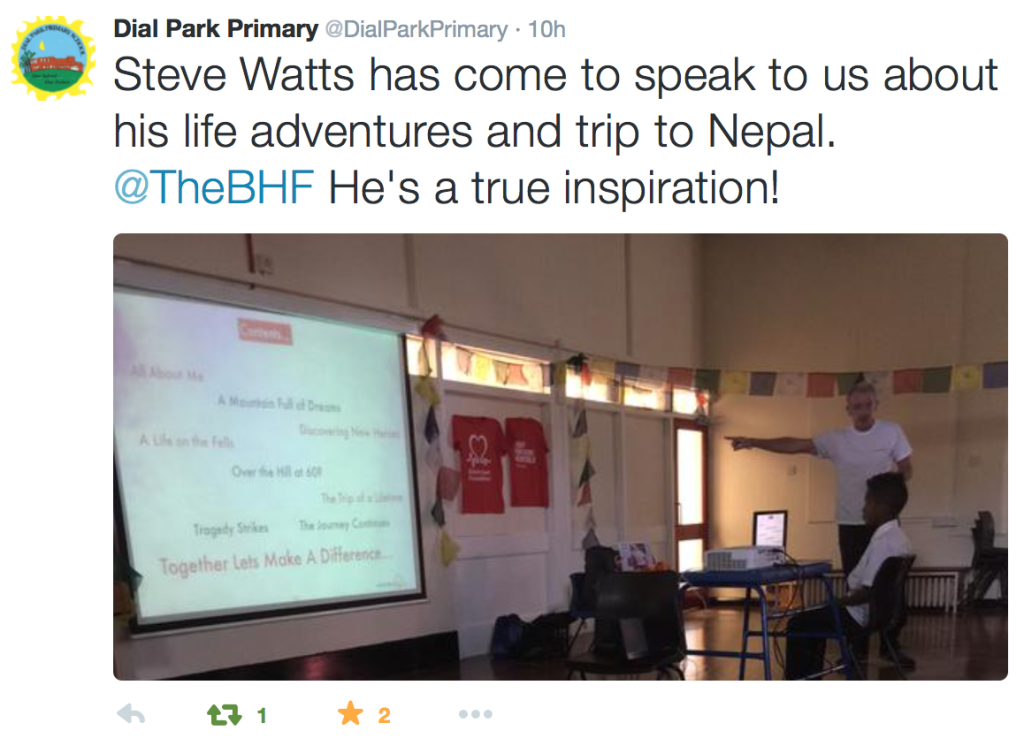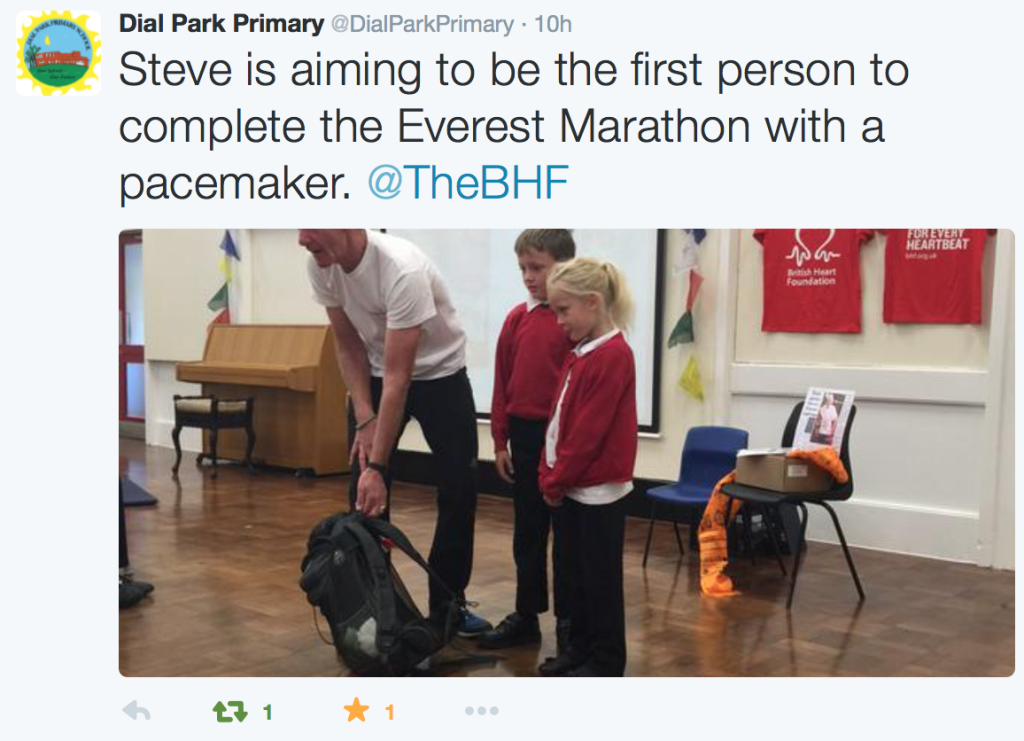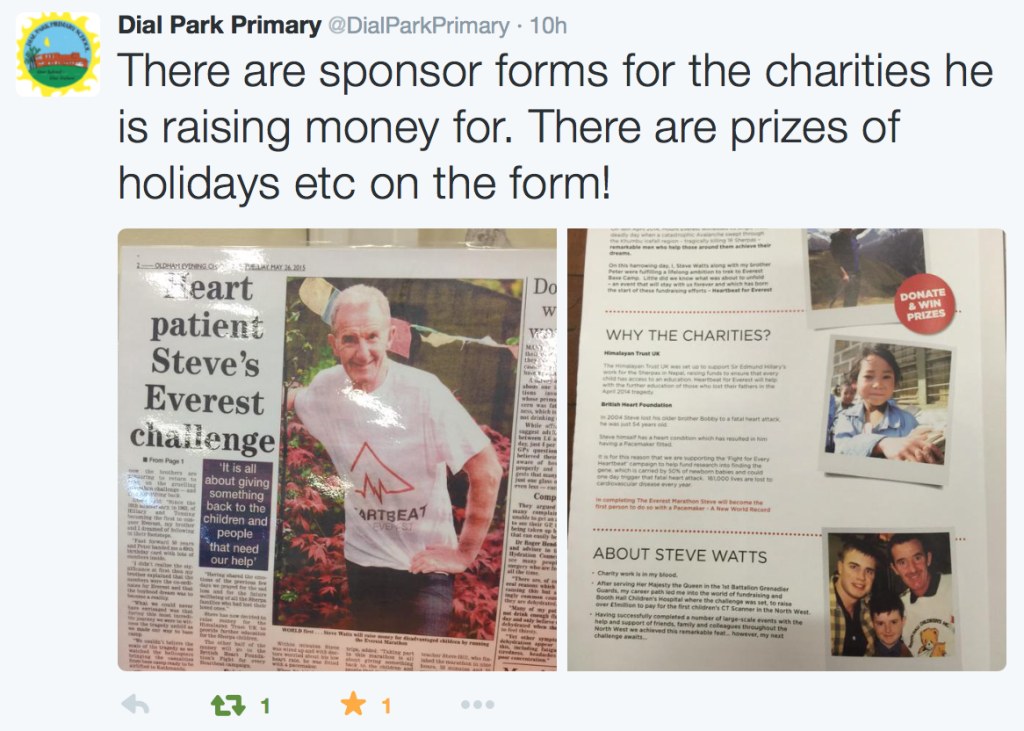 To finish the Headteacher kindly thanked me for sharing the experience with all the children and wished me luck for the marathon, along with declaring that the children will be taking part in a non-uniform day to raise funds for both worth causes. EXCELLENT!!
All children have taken the sponsorship forms home helping to raise much needed funds for the British Heart Foundation and Himalayan Trust UK.
I would also like to thank all the staff at Dial Park Primary School for giving me the opportunity to spread the word about our fundraising efforts.
Thanks,
Steve Watts